Question:
The address associated with CARS is similar (with slight variation in address line 2) to existing location in Reltio. The address got cleansed and merged to existing location. This resulted into two issues.
After the cleansing the CARS address was exactly the same as that of existing address (location id 1OnWu3PB), this should have resulted in same surrogate key. So understanding is we should see an update event, but instead history shows that the new address was merged on the fly using the match rule.

The address that came from CARS went an updated the crosswalk at location level, but there was no change in the OV value. But this triggered all the associated entities like HCP to be published in the Q. e.g. b2X8M6J. Our understanding was that the associated HCP and HCO for which this address didn't come in shouldn't have been published in external Q. These are causing large events in the external Q. For this scenario when we did additional analysis, we see that although the address line 2 which came as SUITE 330 for CARS source after cleansing got standardized to STE 330 the associated HCP also shows an update even though this address was not at all associated with the HCP.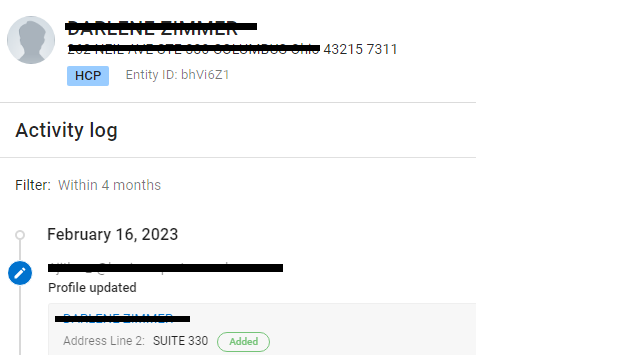 When we do a get on HCP we see that this value has been added as OV false, but under ref entity as expected we do not see any CARS crosswalk.