Reltio's status page at the URL https://status.reltio.com/ is a new addition of our services to serve our customers to communicate the real-time status's of all Reltio Operational Systems!
Our Status Page features a helpful list of all the system environments Reltio currently offers as well as a helpful Intercom UI of all the cloud dashboards where you can get updates on how our systems are doing. If there are interruptions to our system operations, you will be notified on this page.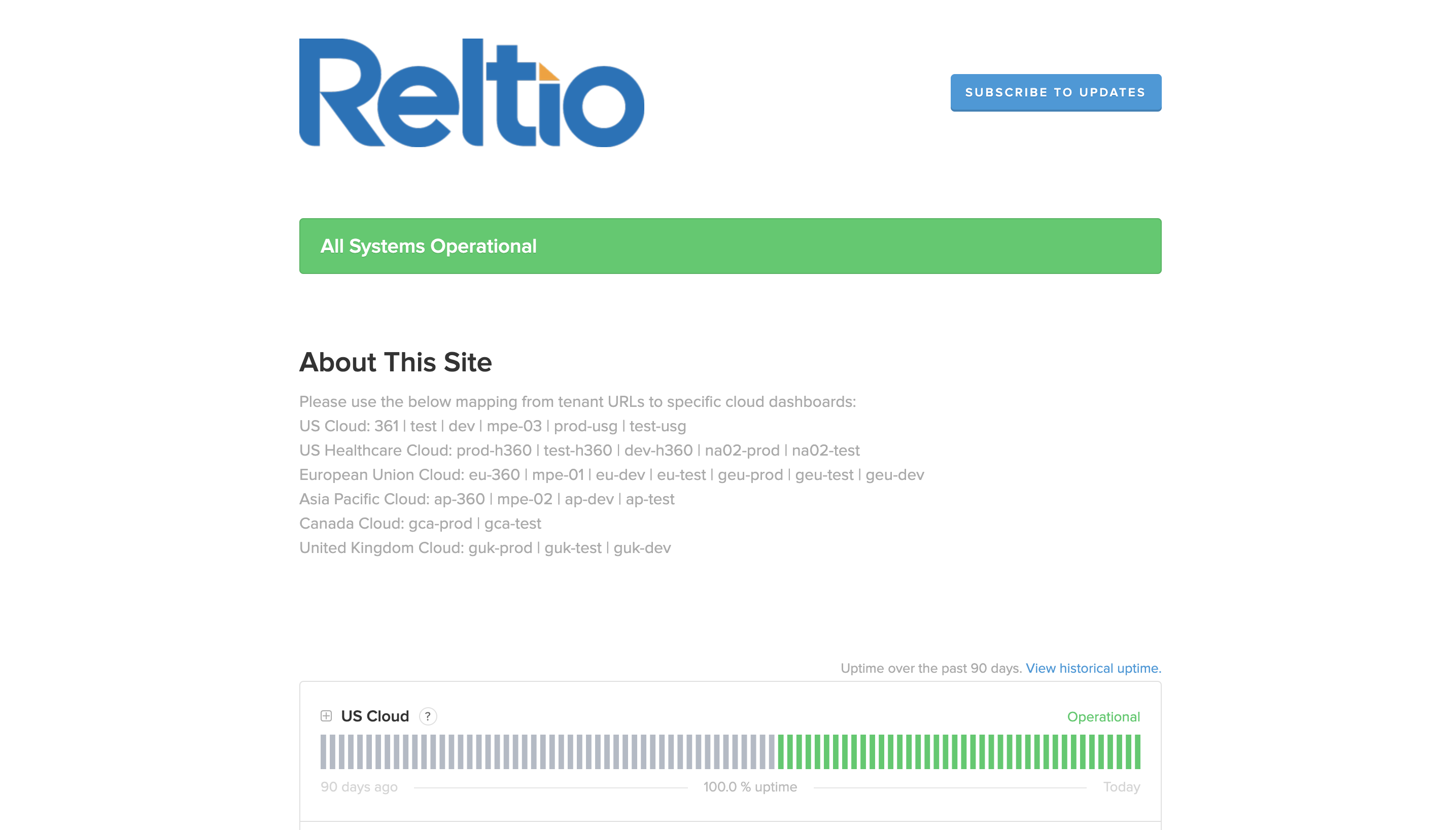 Reltio's current operational environments are listed below:
US Cloud: 361 | test | dev | mpe-03 | prod-usg | test-usg
US Healthcare Cloud: prod-h360 | test-h360 | dev-h360 | na02-prod | na02-test
European Union Cloud: eu-360 | mpe-01 | eu-dev | eu-test | geu-prod | geu-test | geu-dev
Asia Pacific Cloud: ap-360 | mpe-02 | ap-dev | ap-test
Canada Cloud: gca-prod | gca-test
United Kingdom Cloud: guk-prod | guk-test | guk-dev
In the Intercom UI, to the left of the system environment name, there is a '+' button that you can click and will expand to show the status of various areas of the system environment, and their respective operational uptime. These areas are: UI, API, Search/Export, Core, Queues, and Dataload.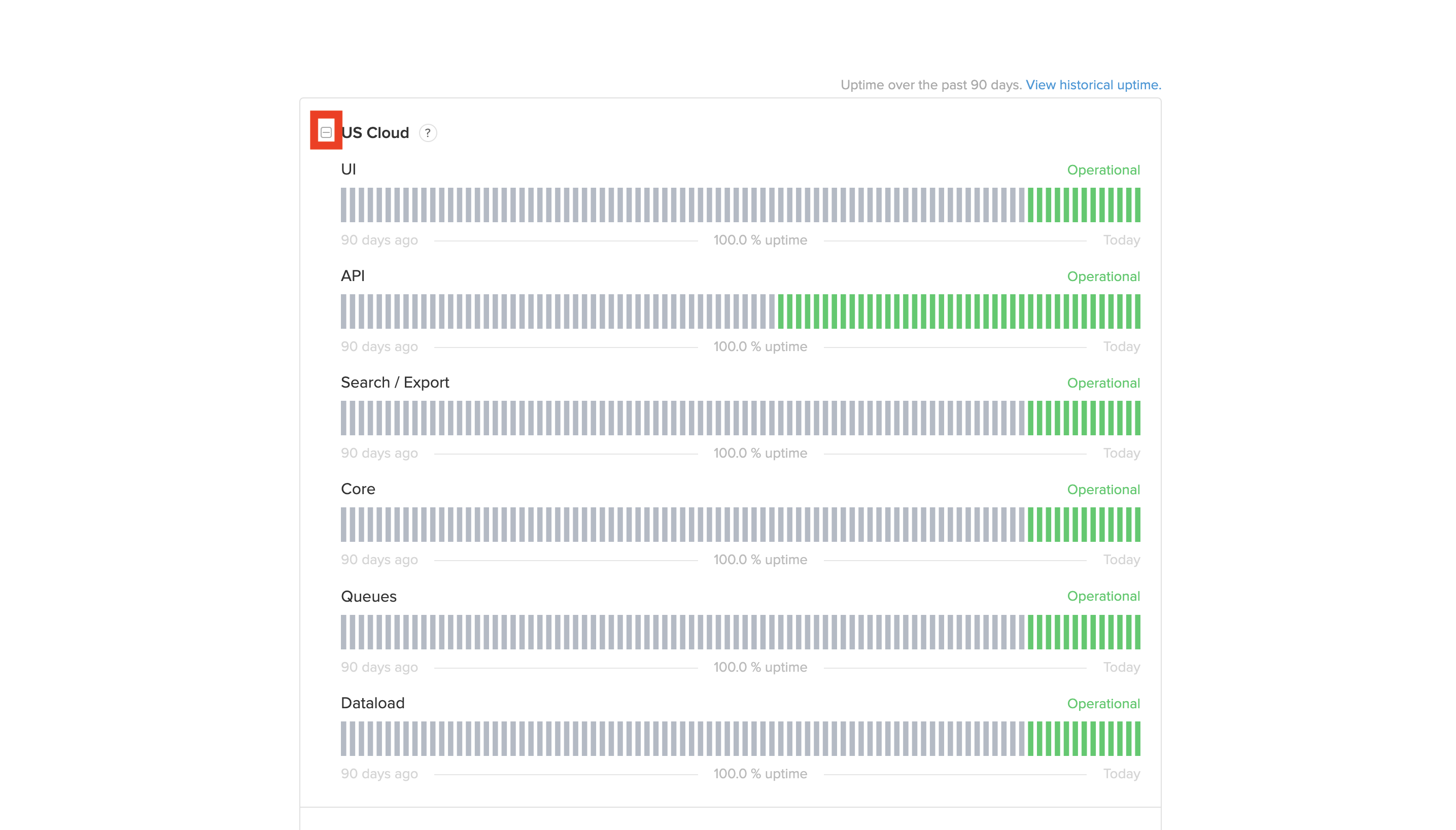 To the right of the system environment name in the Intercom UI, you are able to hover over the '?' button which provides a convenient pop-up text bubble showing all the environments available within that respective system.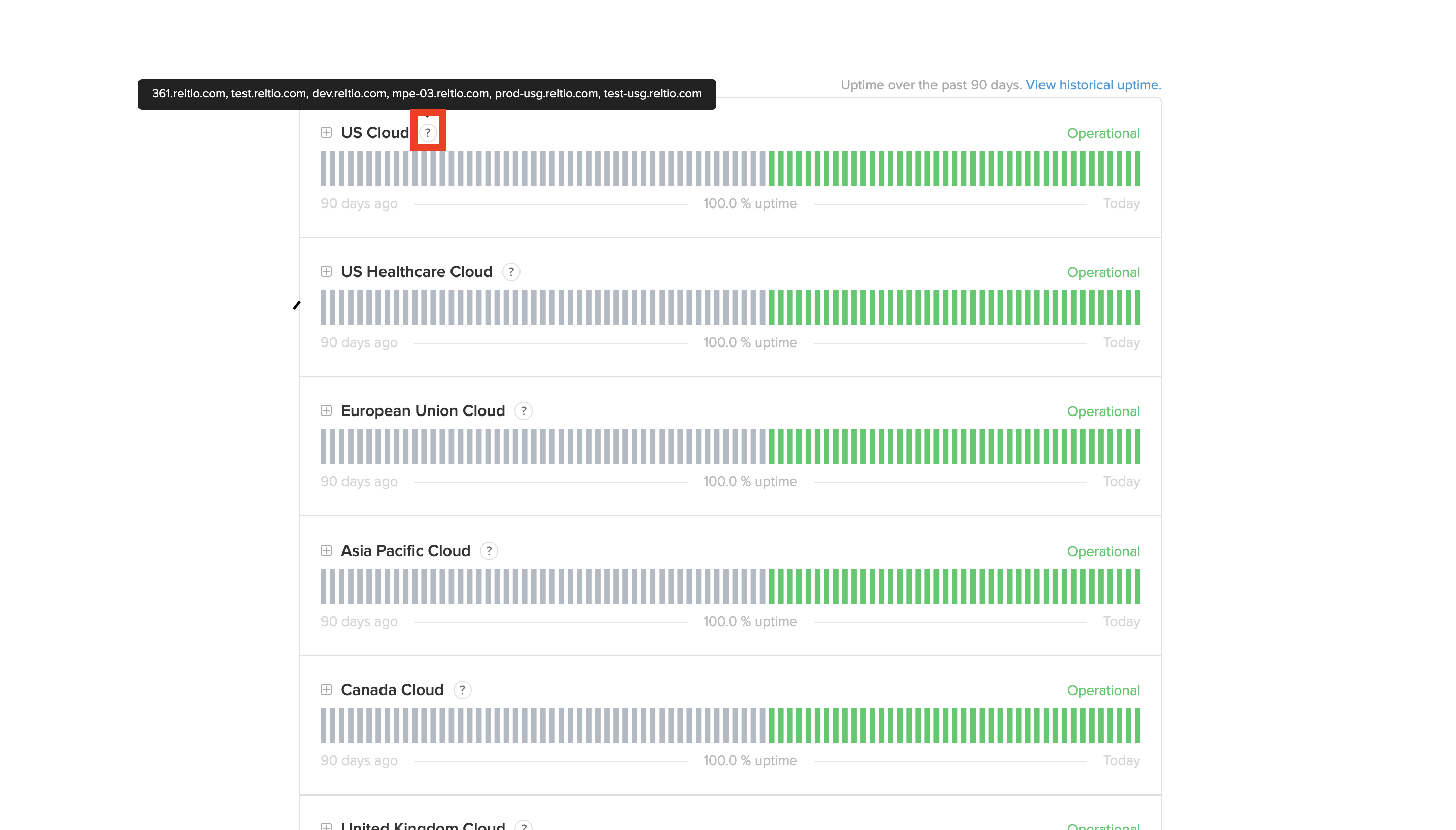 You are able to see the Uptime for all operational systems for the past 90 days within the Status UI.
At the bottom of the page, you are able to view 'Past Incidents' which provides a easily to view list of any recent past incidents that have occurred.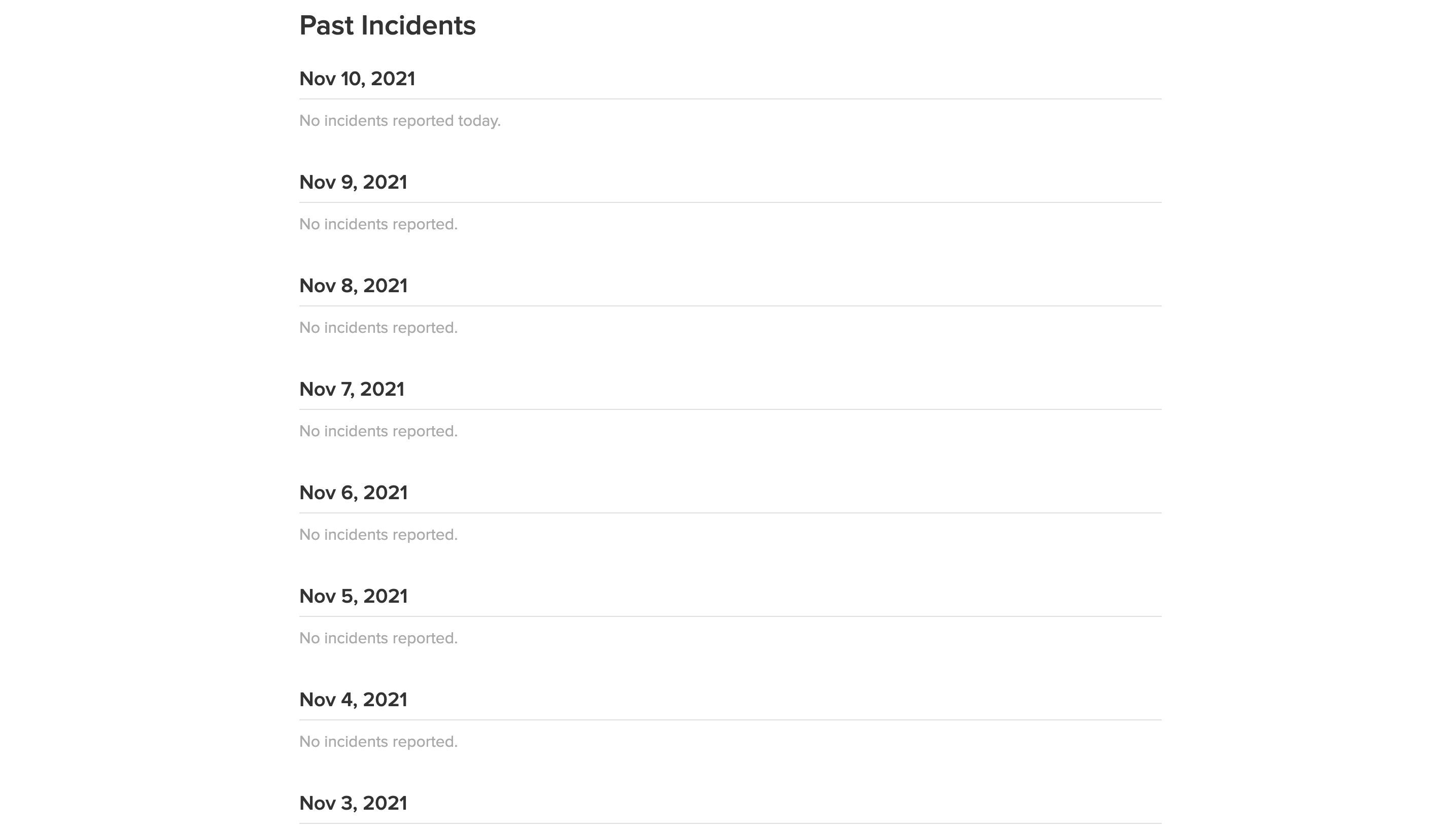 You can click 'Incident History' right below 'Past Incidents'. This page provides a more in-depth look into any past incidents, as well as 'Uptime' of our system operations.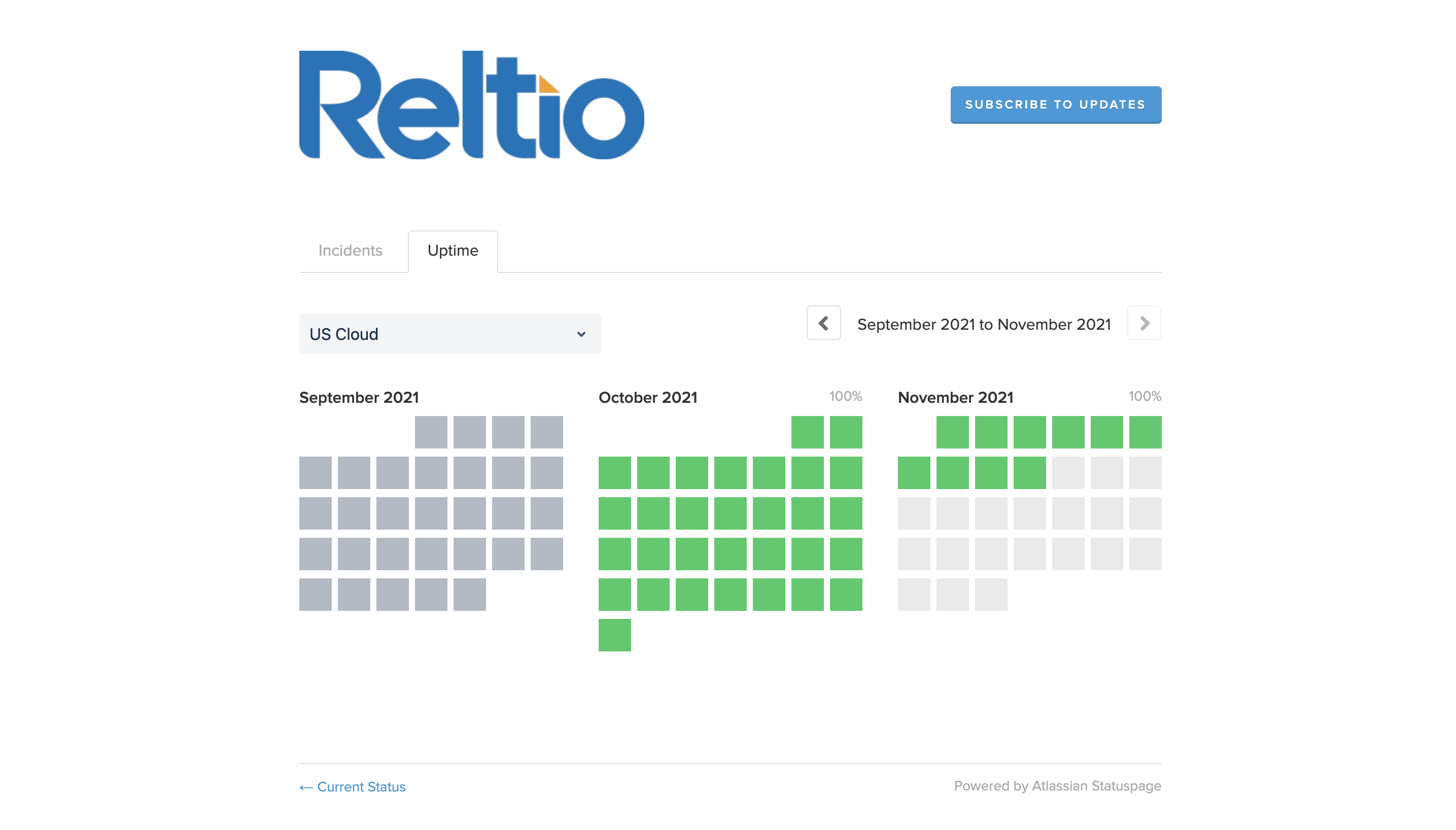 The 'Subscribe To Updates' button allows you to receive updates in a variety of ways. You can choose to be updated by:
Email - Get email notifications whenever Reltio creates, updates, or resolves an incident
Phone - Get text message notifications whenever Reltio creates or resolves an incident.
Slack - Get incident updates and maintenance status messages in Slack.
Webhook - Get webhook notifications whenever Reltio creates an incident, updates an incident, resolves an incident or changes a component status.
Support Site - View our Support Site to get answers from our documentation.
Atom Feed or RSS feed - Provides a summary of updates from our Status site.